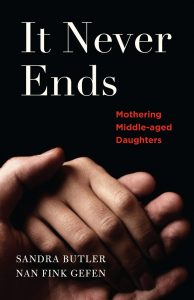 It Never Ends: Mothering Middle-Aged Daughters
"An important personal perspective on women's lives . . ."
–Kirkus Reviews

"A brave book and one that I admire."
–Ellen Bass, author
Being a mother is rarely easy. Being an aging mother with a middle-aged daughter presents its own complexities, challenges, and rewards. As women age, their relationships shift and change in often demanding ways requiring an inevitable recalibration of authority, autonomy, and independence.
It Never Ends: Mothering Middle-Aged Daughters explores this experience, opening the path to further conversation about the difficulties and richness of this time.
Sandra Butler is an award-winning writer, group facilitator and activist living in the Bay Area. She spent 5 years studying the experience of mothers of middle-aged daughters and speaks to people of all ages in community organizations, congregations, professional organizations, and conferences. She blogs about mothering daughters in Psychology Today, and appears frequently on the media. A well-known conference speaker and retreat leader, she is committed to furthering the conversation about a subject that has been too long ignored.
It Never Ends: Mothering Middle-Aged Daughters and Butler's accompanying groups, workshops and retreats are a groundbreaking opportunity for mothers, daughters, granddaughters, as well as scholars and students to hear the uncensored voices and experiences of older mothers, providing an invaluable understanding of the intersection of aging and mothering and challenging the myths that have grown up around both.